Hawaii 2017 - Part 6
I know this is probably going to drag into multiple posts so here is a handy link to see the entire series as I post them.
Overview of life on the Kona Aggressor
In order to write the most per post without reiterating certain aspects of life on the Aggressor I'll just write those things down once here and then get into each day's adventures. The day starts relatively early, at least for me, as we are trying to get the most diving in every day. Breakfast I believe started around 6:30 and typically consisted of a continental style start and a made to order component if you desired. This was followed by a dive briefing and a dive. After returning from the first dive there is typically some sort of snack (cookies, brownies, etc) and a short break. Then we have another dive briefing and another dive. After the second dive it is time for lunch and rest. The boat typically utilizes this time to relocate to a different dive site. Then we have another set of dives and their briefings with another snack in between. After that there is time to rest and get cleaned up prior to having dinner. Some nights there is a night dive that follows dinner. After which everyone is bushed and either retires to their own diversions or just socializes into the night. This is repeated up until the second to last day on the boat.
Kona Aggressor II's Captain's Log
Sunday, May 28th - Kolokos Arches & Garden Eel Cove
The morning dives were at Kolokos Arches.
The afternoon dives were at Garden Eel Cove. On my second dive my computer got stuck in gauge mode which isn't dangerous but it provides less overall information. I worked with my dive buddy and finished the dive safely.
We had our first night dive at Garden Eel Cove where we attempted to see manta rays but only one showed up and just passed through. There were over 100 divers and snorkelers in the area for this.
Monday, May 29th - Aquarium, Shark Fin Cove, & Mantaville
The first morning dive was at Aquarium. The second morning dive was at Shark Fin Rock. This was my 100th dive!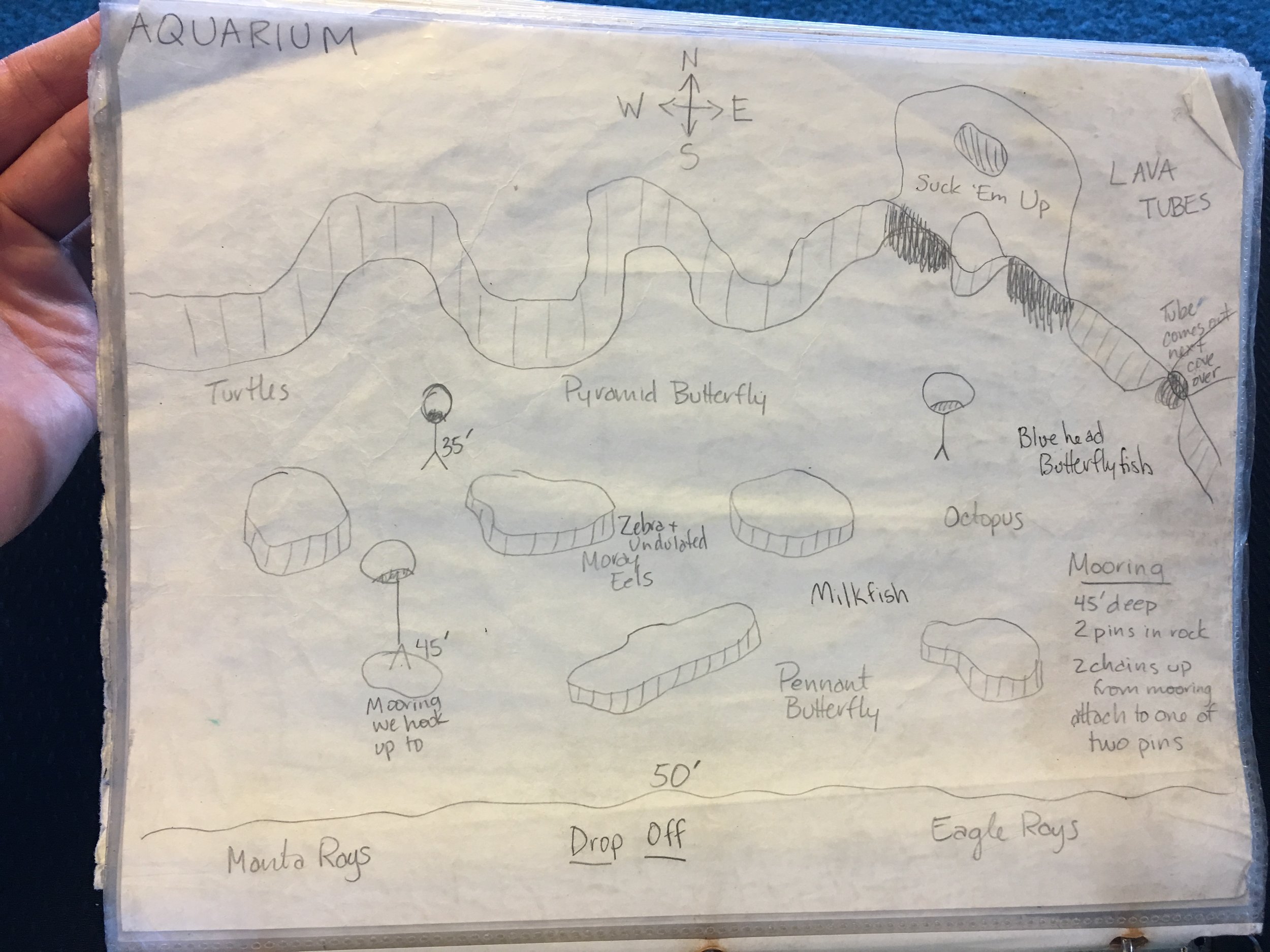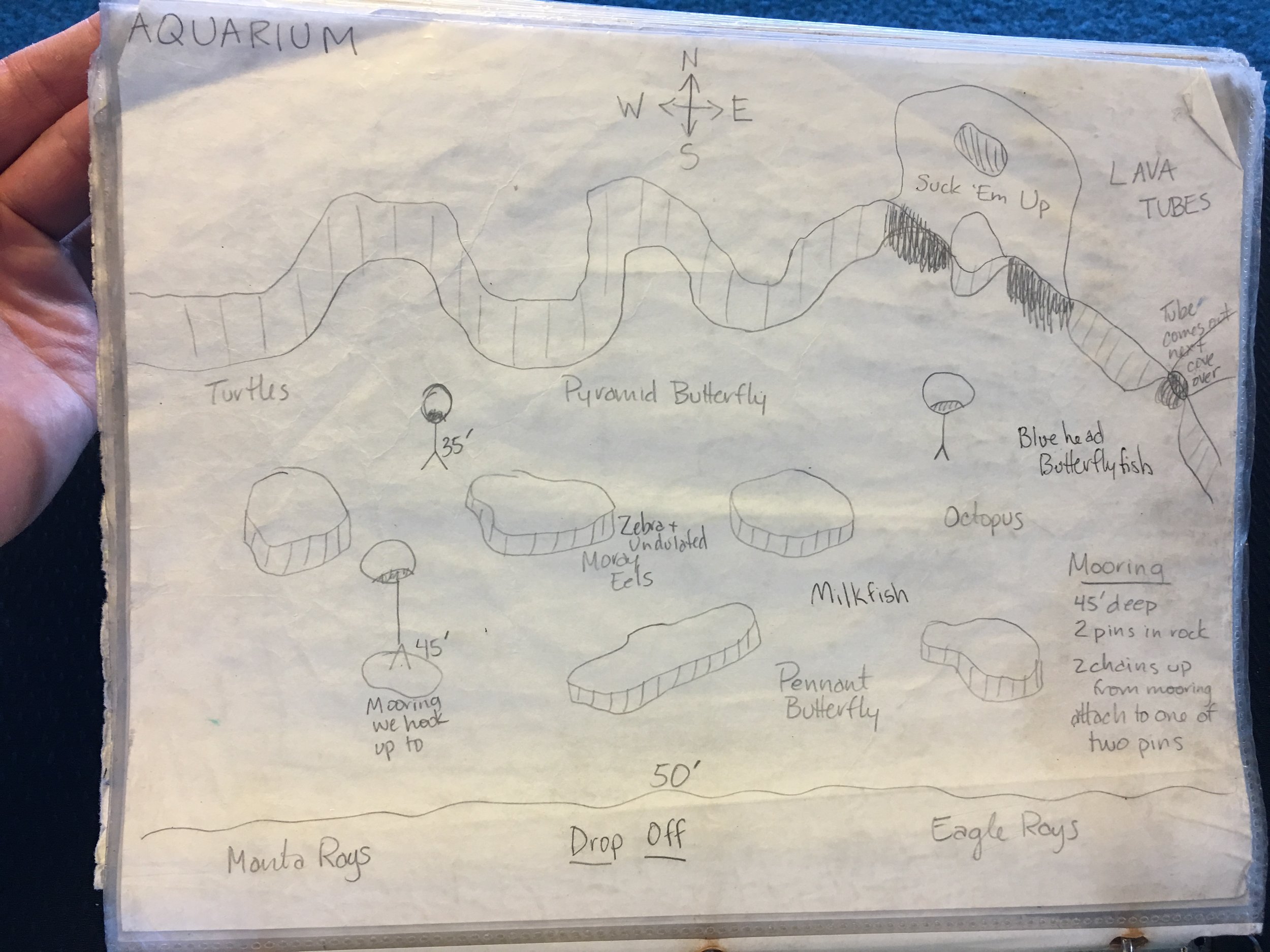 The afternoon dives were at Mantaville.
The night dive was also at Mantaville and was our second attempt at spying the mantas. This time we had a few mantas that stuck around and it was awesome.
Tuesday, May 30th - Driftwood, Paradise Pinnacle, & Au Au Crater
The morning dives were at Driftwood.
The first afternoon dive was at Paradise Pinnacle.
The second afternoon dive and the night dive were at Au Au Crater.
Wednesday, May 31st - Land of Oz, Catacombs, & Manuka Bay
The morning dives were at Land of Oz.
The first afternoon dive was at the Catacombs.
The second dive was at Manuka Bay.
Sometime between the afternoon dives and the night dive a pod of spinner dolphins appeared about 200m from the bow of the boat. Sara and I donned our snorkeling gear and swam out to the area where the pod was swimming and here are the videos of that amazing encounter. Thanks goes to Sara for dragging the camera out there and capturing this event.
Thursday, June 1st - Never Never Land, Rob's Reef, & Amphitheater
The first morning dive was at Never Never Land.
The second morning dive was at Rob's Reef.
The afternoon dives were at Amphitheater.
The night was Pelagic Magic where the boat basically went far out from shore into the pelagic part of the ocean and with the lights we saw tons of weird and interesting creatures. The waves and current made it crazy but it was still neat.
There were dolphins hanging out around the boat as we moored for the the evening. I didn't get any photos of them as it was dark but they kept circling the boat probably eating whatever was attracted by the boat's lights.
Friday, June 2nd - Turtle Pinnacle
Our last dives on the trip were in the morning at Turtle Pinnacle. One of the dive masters, Celia, dove down to moor the boat and encountered the resident tiger shark but on the two dives that we were on we didn't see it. Oh well!
We took the afternoon to clean and dry our dive gear and to prepare to disembark on the following morning. In the evening we had a cocktail party and last get together of the entire crew with the guests. We had a little award ceremony where I received the Iron Diver (along with four others) which meant we did all of the dives. I should have a plus one next to mine for the dolphin swim but whatever. Afterwards we went ashore for dinner at Huggo's On The Rocks which was a nice little outdoor restaurant, on the water, with live music and a hula dancer. It was a good time to relive the adventures we had all just shared.
Saturday, June 3rd & 4th - The return
Relatively early on Saturday morning we had breakfast and then we disembarked from the vessel. I had a later flight than many of the others so I decided to explore a little bit. At some point I had the bright idea that I would walk to a local movie theater a kill some time watching a movie. Using Google I found a theater that was just about a mile away and I figured I could get there on foot just fine. After about a mile hike mostly uphill with a hot sun beating down on my and no breeze to cool me off I determined that I was lost. Well not technically lost as I knew exactly where I was but there was no movie theater near me. After doing some more searching I found out that it was about 5 miles away along a highway that did not have sidewalks. Luckily I had saved the phone number of the taxi cab that had taken me from the airport back into town when I had dropped off my rental car. I called them up and after another 20-30 minutes, due to lost keys and being locked out or something) they had retrieved me from my predicament and deposited me by the theater. I'm pretty sure the driver gave me a water too.
The movie theater wasn't open yet so I had a little time so I ventured next door to the Kmart and bought a pair of shorts sense I had sweated profusely in my current ones and I wanted something clean when I was traveling later in the day.
I returned to the theater and watched the latest Pirates of the Caribbean as I enjoyed a cool soda and air conditioning. After the movie I called the taxi cab again and had them drive me back to the pier to pick up my luggage and then to the airport.
From there I did the typical travel stuff and finally arrived in Orlando, by way of Dallas, around 11am on Sunday. I don't recall if anything happened on the flights but I assume nothing of note or I would have remembered it will enough to write it down.
Thanks for coming along on my journey to Hawaii. Aloha!